TRAVEL ANTI - TURNOVER BABY BED
ENJOY A RESTFUL NIGHTS SLEEP WHILE YOUR LITTLE ONE SLEEPS IN TOTAL BLISS
TIRED of not getting a good nights sleep, is waking up constantly taking it's toll? Wish your little one could sleep anywhere when out and about?
Well you need the BUBBLE Portable Baby Bed. Take it with you ANYWHERE, so you can guarantee that your child will be 100% SAFE and get a PERFECT sleep no matter where you are

Use at home in a cot/crib/bassinet or take it on the go!
Made with 100% Breathable Materials
That's because the shape of the portable baby bed imitates the infant's embryo period and Mimics the shape of the female uterus. It has an ANTI-ROLLING shaping pillow to stop them spilling over into awkward position.
MAKE YOUR BABY FEEL COMFORTABLE WHILE SLEEPING AND PREVENT FLAT HEAD SYNDROME
Prevents Flat Head Syndrome -

The ergonomic design provides a soft yet supportive cushion to help combat this common problem.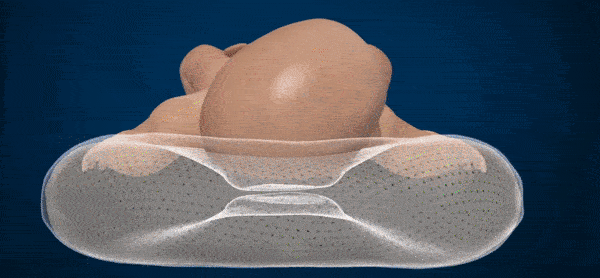 It's Doctor Recommended -

Working alongside some of the best paediatric osteopaths, we've designed a bed that's clinically proven to help your baby relax.
Enhances Your Baby's Growth -

Encourage independency from their mother's arms, and reducing high stress levels with a safe cradle design, this pillow will make your baby's first few months more enjoyable.
Enhances Their Comfort

-

Designed to imitate the shape of a mother's womb, this bed cradles your baby more than standard beds & cots.



Embedded Shaped Pillow Design-

Evenly distribute the pressure on the baby's skull so that the baby's head shape is perfect.
ERGONOMICS DESIGN-Outside high and low inside, fit the baby's head curve, evenly wraps the head.
BACK SUPPORT DESIGN-Comfortable posture and positioning of ideal baby lying flat, providing back support.
LEG PAD HEIGHTEN DESIGN- Provide back support and heighten leg area height for a more comfortable sleep.
ADJUSTABLE LEG SUPPORT ROLL PAD-As the baby grows up and has different heights at different stages, the pad can be adjusted to support every stage baby
REDUCES THE RISK OF PLAGIOCEPHALY-Pediatrician designed head-rest distributes pressure evenly over the skull and neck. This helps baby develop the proper head shape and prevents the risk of flat-head syndrome.
FACILITATES DIGESTION- To help with baby's digestive discomfort, an adjustable positioning cushion raises the legs of your little one.
PROVIDES ULTIMATE COMFORT-The BUBBLE is made out of a soft breathable fabric that keeps the back and neck areas of the baby cool.
FAQs
Q: What size does it support up to?
A: It depends on the size of your child. However, babies up to 18 months fit comfortably on the bed.
Q: Does it help Flathead Syndrome?
A: Yes it does! The cocoon design provides a soft yet supportive base for their head. We've had a lot of positive feedback from very happy mothers saying that it helps form a perfectly round head.
Q: Is it safe to use overnight?
A: yes its safe. however
Don't share a bed with an infant under 4 months of age ,having the BUBBLE bed next to the bed is a better choice.
Q: Can you wash it?
A: Yes, you can! The entire bed is washable on standard wash cycles with no deformation of the product itself.
Q: What are the dimensions of the bed?
A: BUBBLE is 55cm x 38cm x 22cm. The vertical padding lengths range from 8cm at the head to 16cm at the bottom.
PROMO PRICE: 1 PC 245 cedis
QUICK IMPORTANT NOTICE BEFORE YOU PLACE ORDER
Payment Method is Pay On Delivery. We send out ordered products based on trust.
Meaning we use our money to courier the product to your state and it won't be nice after the product gets to you and you don't receive it.
PLEASE DON'T ORDER IF you'll be travelling or out of town within the next 2-4 working days OR if cash is not readily available right now.
Thanks for your kind understanding
Cases Like: I don't have money, I travelled, I was just joking with the order and many other unreasonable excuses are heart-breaking and unfair. We use money to send the product via courier company.
Thanks for your corporation, you can proceed to place order if you are FULLY ready for it.
Fill the form below to place your order.
For Enquiry
call or whatsapp 0594069814