Adhesive Removable Chalkboard Wall Sticker for Home, School ,Office & Decor
The multi-purpose small blackboard for children graffiti,

practising

calligraphy and counting, bulletin boards, message boards. Use our easy peel and stick chalkboard stickers to express your ideas in a fun and creative way.

A blank canvas for, a to-do list, quirky restaurant menus, memo boards and much more. With chalkboard wall sticker,you can avoid the walls getting ruined by little kids who draw on walls

,turning any dry flat smooth surface into a unique chalkboard.

Our chalk sticker is a great solution for homeschooling, organizing, and scheduling in a fun way.
This chalkboard Sticker is designed for kids who can write notes, make to-do lists, play games

. So! Turn any flat surface into a blackboard! just peel and stick.

The chalkboard decal works with both chalk and chalk-ink markers and wipes clean with an eraser or a damp towel or sponge. Moreover! it's Made with the highest quality (PVC), durable, self-adhesive, and waterproof. Chalkboard wallpaper is easy to remove, reposition and reuse

, leaves. chalkboard wall sticker is

suitable for use in family living room, bedroom, office, or school

. Great for kids & adults.

Definitely! a great gift for your kids and they will surely love it
Alternative to permanent chalk board paint, this unique product is for you

. Simply apply the sticker on any smooth wall and remove it when ever you want to dispose. Keeps your walls neat and tidy from kids mess. You can cut or join as per your requirement.

You can apply the chalkboards sheet as easy as 1, 2, 3! Remove the backing paper, then stick the black board decal on your surface. The high quality adhesive makes the chalk paper removable and repositionable without damaging the surface

. Eraser cloth & 5 colored chalk (2 white, 1 blue, 1 yellow, 1 pink) included with the chalk board sticker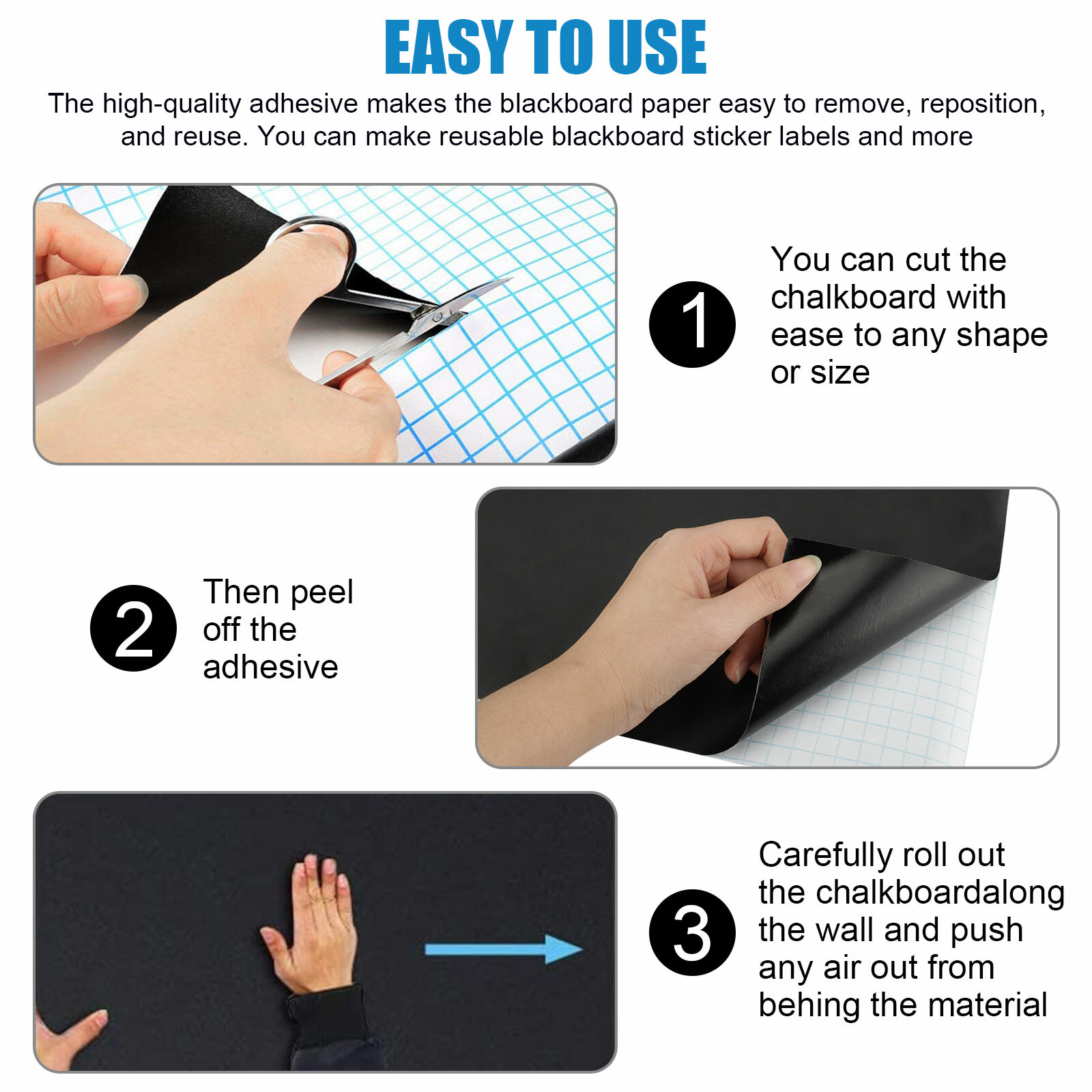 1.It does not damage the wall and can be removed without leaving marks;
2.It can be reused many times, easy to clean and wipe, easy to paste, durable and firm;
3.Ordinary chalk can be written, wiped with damp cloth, clean and dust-free;
4.Comply with international child safety standards.
5.Perfect for the home, kitchen, office, & school classroom
clean the wall
paste corners
Tear off smooth and finish
PRODUCT NOT SUITABLE FOR FOLLOWING CONDITIONS

Waterproof surface
Smooth Wallpaper Surface
Tile Surface
Dip Surface
Painted Surface
Glass Surface
Metal Surface
THE BEST GIFT FOR YOUR KIDS... MAKE YOUR KIDS HAPPY
QUICK IMPORTANT NOTICE BEFORE YOU PLACE ORDER
Payment Method is Pay On Delivery. We send out ordered products based on trust.
Meaning we use our money to courier the product to your state and it won't be nice after the product gets to you and you don't receive it.
PLEASE DON'T ORDER IF you'll be travelling or out of town within the next 2-4 working days OR if cash is not readily available right now.
Thanks for your kind understanding
Cases Like: I don't have money, I travelled, I was just joking with the order and many other unreasonable excuses are heart-breaking and unfair. We use money to send the product via courier company.
Thanks for your corporation, you can proceed to place order if you are FULLY ready for it.
We are direct from factory so our price is cheaper than others
We personally check and test the product before dealing with manufacturer..We only choose high quality products.
We always make sure the 100% satisfaction of our valued customers.
We have customer support to assist you.
Fast Delivery,FREE shipping and Cash on Delivery .
Easy return policy and replacement for damage item due to courrier mishandling and factory error.(1-2) days
Fill the form below to place your order.
For Enquiry
call or whatsapp us..
Disclaimer

This site is not part of Facebook website or Facebook Inc.
Additionally, this site is NOT endorsed by Facebook in any way. FACEBOOK is
trademark of FACEBOOK inc.