STAY SAFE FROM VIRUS AND DISEASES WITH THIS POWERFUL RECHARGEABLE PROFESSIONAL HAIR CLIPPER
ADVANTAGES OF KIKI RECHARGEABLE HAIR CLIPPER
The Rechargeable Hair Clipper has strong power, easy to use, easy to cut, can push and cut quickly, and avoids clipping, and generally has good endurance. And he also has the following characteristics and advantages...
Simplicity of use:

Since you are utilizing cordless clippers, you've got a better time shaving or even styling hair without getting twisted up. Additionally, it makes cleanup faster, while you don't have to wrap wires.
Flexibility:

Hair clippers are available in various sizes as well as guard comb accessories, so that you can cut through any period of hair and style it in whatever way you want. Pair it with a good body groomer, and you'll be able to shave every part of the body without the hassle.
Spend less: For barbers or even hair stylists, they create for a great investment because it saves you time shaving hair or even beards. For individuals who require clippers on their own, they may be very costly. However, with its power and simplicity of use, you receive a return on investment with quality-styled hair with no hefty salon bill.
Utilize it Anywhere: You'll be able to utilize a cordless hair clipper everywhere. They operate on battery, so although it can last for about an hour or so right after charging, you are able to bring and employ it anytime, wherever you go. It is best for businessmen on the run, or for people who love traveling outside.
FEATURES OF KIKI RECHARGEABLE CLIPPER OVER OTHERS....
Applicable For Men, Women, Old People, Children
This hair clipper is suitable for home use, also for professional salon use.
Equipped with a low noise and long life power motor for high cutting power & speed.
Driving motor power won't get hot for continuous use so no danger from overheating.
Stainless Steel blade, Prevent Skin Irritation.
LCD display which serves as Charge Reminders while charging.
Abs housing + stainless steel blade. (super sharp and low noise, cord and cordless use, overcharge and over discharge protection).
Lithium battery 2000 mah. 4-5 hours quick full charg.
More than 120 Minutes Working Time after fully charged.



4 guide combs.(3mm,6mm,10mm and 13mm) respectively

The kiki rechargeable hair clipper is now available at a price of #10,000 instead of #29,000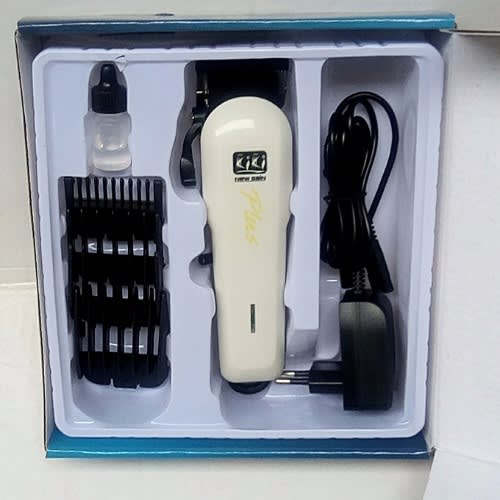 Kindly fill the form below to place order
1) Please do not order if you are not ready to receive your order within the next 3 to 5 working days.
2) If you are traveling or already travelled please don't order except you have someone that will collect on your behalf .
3) Please do not use someone phone or number to order.
4) If you do not pick calls from unkown numbers please don't order.
5) Please do not order for fun
6) We do not like i have spent the money before you bring it.
7) We do not like i have used the money for another thing.
8) Please make sure #10,000 is ready before you place order.
Don't wait until price go back to #29,000
ORDER NOW WHILE PROMO IS STILL ON!!!
Fill the form below to place your order.
for more enquiry call/chat us on 08086301232