A MUST HAVE USB VOICE RECORDER FOR SEVERAL OCCASSIONS SUCH AS MEETINGS , LECTURES HAVE BEEN MADE EASY.
The Most Phenomenal USB Recorder
You probably have several USB drives like this one laying around your desk. All of them do the same thing, but this one has a secret – there's a tiny microphone hidden inside of it.
Put this recorder on your desk or table, and it can hear you talking up to 20 feet away.
You can also slip it in your pocket and record yourself talking to your boss or a coworker and even police. You'll still get a clear sound.
VOICE RECORDER & USB FLASH DRIVE 2 in 1: The USB Voice Recorder is the perfect fusion of voice recorder and USB FLASH DRIVE. It is a perfect gift for students, writers, professionals or any other users who need it! It doesn't need any cable to connect it to your computer. Just plug and get connected.
MINI DESIGN: 2.95 x 0.39 x 0.87 inches: It is simple to carry around in any palm, pocket or a purse. Just slip this mini digital voice recorder into your bag or pocket.

GREAT CAPACITY & LONG BATTERY LIFE: With 8GB of internal memory, 128KBPS recording resolution and 50 hours of recording, it can sort your notes, recording and music files in one simple device.
EASY OPERATION: The USB Voice Recorder with only one switch. Push the Switch to start recording and save the recording files. Then plug the device to your computer to read the recording files. That's so easy!

PORTABLE DESIGN: The Recorder designed with a lanyard hole that you can hang it on your king ring. Note: Both IOS and Windows system can recognize the recorder. If you find you cannot play the recording files (Mac computer did not use the compatible player often.), you will need to download a new player which is compatible with .wav format, such as WV player, Media Player Lite, 5K Player and so on. Most players on the internet can be compatible with .wav file, do not worry.
KEY DETAILS OF OUR PRODUCT
HD VOICE RECORDING: You can also slip it in your pocket and record yourself talking to your boss or a coworker. You'll still get a clear sound.
EASY TO HIDE: Compatible and you can hide it to record voice privately.
COMPATIBLE: Plug it into your computer to hear recordings & charge battery. Works on all computers, no software required.
LONG LASTING 10-hour battery, so you never run out of power.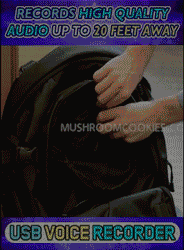 One switch to start the recording which can hear you talking clearly up to 20 feet away, no need to do the troublesome settings. 
Put this recorder on your desk or pocket. You can record yourself talking to your boss or a coworker and they will not recognize anything special!
No need to install any software. Simply plug it into your computer and the recording folders will automatically open.
IT CAN BE USED IN THE FOLLOWING AREAS
HOW TO USE IT :
This digital MP3 voice recorder is with built-in 8GB flash memory, there's a small switch for power. When you flip the switch, the voice recorder turns on and starts recording everything nearby. When you're done recording, flip the switch to turn the power off.




8GB (Please select FAT32 system when formatting the recorder)

Size 70mm x 21mm x 9.4mm

Recording Formats WAV

Power Supply Li-ion battery

Operating System Windows XP/Vista/7/8

Recording Bitrate 128K bps

USB Port USB 2.0

Frequency Response 20Hz-20KHz

Max Audio Output Power ≥ 5mW

To hear the recording you just made, plug it into your computer - a folder on the flash drive will automatically open. Your taped conversations will be inside that folder.




Every time you turn the power on, a new file is made. When you turn it off, that audio file is saved. So, if you talk to 3 different people, and you turn the power on 3 times, there will be 3 files. That makes it so easy to keep your conversations organized.




The drive can store up to 144 hours of audio, so you don't have to worry about running out of space.

Are you going for lectures, Just get this USB voice recorder and take it along with you with. It makes revision very simple.

Are you a police officer, This USB voice recorder will make it easy for you to take statement from your clients.
It is easy to take along, as people around will just look at it as mere flash drive.....Very good for investigating journalism.
You don't need to be charging it every hour. Once charged, it can last up to 10 hours recording....Good for board room meeting.
QUICK IMPORTANT NOTICE BEFORE YOU PLACE ORDER
Payment Method is Pay On Delivery. We send out ordered products based on trust.
Meaning we use our money to courier the product to your state and it won't be nice after the product gets to you and you don't receive it.
PLEASE DON'T ORDER IF you'll be travelling or out of town within the next 2-5 working days OR if cash is not readily available right now.
Thanks for your kind understanding
Fill the form below to place your order.
For enquiry call/chat us on 08086301232